There follows accounts of the adventures of Lambert and his occasional band... The Vibes.
Lambert first performed live at Lanterns in Ashburton in November 1994. Dear Lord that is an age ago. Lambert was staying in Buckfastleigh with a good mate called Mike Castleton (playing Dogberry for his final project at Dartington College of Arts) hence the embarrassing picture... (the picture seems to have been eaten by some kind of fungus hence the weird red snow) He was young all right! (remember that when you listen to the following...) great lyrics!

Just like the saint crossing the river with Jesus Christ on his back
Just like the uncle with the child on his shoulders having another attack
Don't let anyone ride on you...
Indeed
Ride by The Sounds of Lambert
There followed a hiatus whilst Chris pursued an amazingly successful (ahem) theatrical career.
During this time he met up with a very young chap called Rob Calder (16 at the time) seen above as Lord Chandos in Shades in Time - Cirencester. Rob was a mean fiddler and mandolinner and played with a band that I think were called Absolution. He worked with Chris on the music for Edmund ,Son of Gloucester and while they were doing that they recorded this (Rob played guitar), Chris says of this track:

"I liked it so much I put it on my girlfriends mixtape (remember those!) she is now my wife, hurrah!"

Low days by The Sounds of Lambert

Interestingly I met up with Rob when he was playing Doubledotbash (I was doing The Watchman) in Reading last year both as himself in Ebbs and Flows and in Glass Cello. Oddly this is the kind of direction I've gone in.

Towards the end of this period he worked with Jon Nicholls (above) from 1997 to 1998. Jon (now a very successful composer who works for Channel 4, Radio 4, Radio 3 and various very important theatre companies) created the soundtrack for Chris Lambert's "The Ninth" in 1997 and the two of them explored some very interesting musical sounds that Dave Yates (Dolly Dolly) has said is his favorite of the Lambert sound.
Suffer by The Sounds of Lambert

He formed Stumblehead with Marcus Attwood and Giles Flook in 1997 after Chris and Jon had been working on a charity record at Marcus studio. Marcus liked Chris's voice and Chris liked Marcus's height and the rest as they say is history. Chris recorded How I Feel with Giles and Marcus in 1998.
This collaboration continued even though Chris moved to Reading to study to be a Drama Teacher. The style changed as the time progressed so they went from the acoustic style that you'll still hear live occasionally... for example "She's All I Have"
She's all i have by The Sounds of Lambert
They wore their influences proudly from Nick Drake to Skunk Anansie to Reef to Crowded House and beyond. The following song "Sorry" is written during this period.
During the mid noughties they were lucky enough to play at the Rock Garden in Covent Garden and Ronnie Scotts in Birmingham. It was at Ronnie Scotts that they played "Lately Elaine" a new sound that was all of their own.

Lately Elaine by The Sounds of Lambert
At this point Chris was also trying his hand at using a computer and began to make quite interesting sounds that would pave the way for his work with Music for Zombies. For example check out this weird track "Come".


Come by The Sounds of Lambert
By now, not entirely sure when, Stumblehead became "The Vibes" and though some of the old standards remained a new sound emerged more pared down, but the lyrics were better too! Check out "Far Away".

Far Away by The Sounds of Lambert
This new confidence also meant a Radio appearance on BBC Radio Berkshire, in which their risque cover of "Creep" was refused airplay!

Still occasionally playing together, though separated by miles of motorway, Lambert has struck out on his own more, playing at The Butler in Reading and at various venues for Reading Rock Revolutions.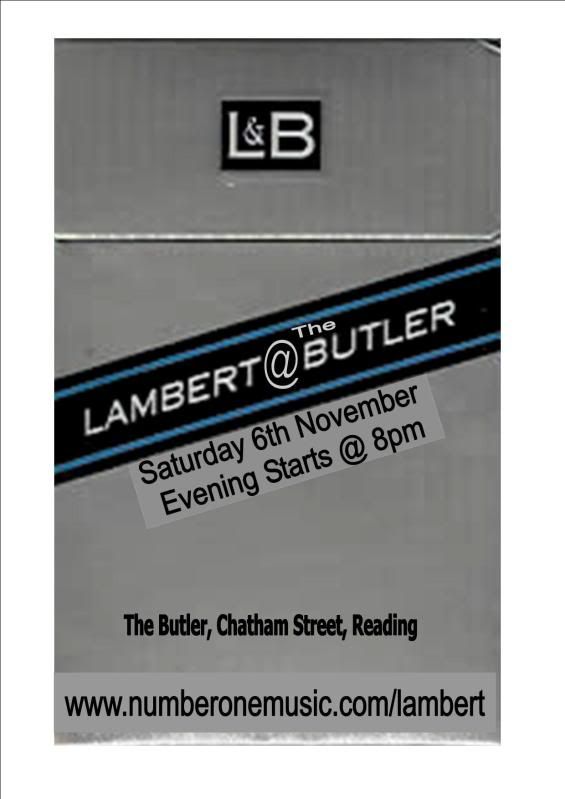 He mixes it up, using Music for Zombies soundscapes in his work, check out the simple but effective "Come Alone"

Come alone by The Sounds of Lambert
Lambert continues to Gig - see Gig List page...